Friedrich Nagler - Outsider Artist
Friedrich Nagler (1920 – 2009) was an émigré, 'outsider' artist born in Vienna, Austria. He escaped Nazi occupation in 1938 and eventually settled in Hampshire, England. He always considered himself an artist and dedicated his life to producing a prodigious artistic output working with a very wide range of materials. He also kept a record of his thoughts in the form of 42 books of poetry. He refused to either sign his work or exhibit during his lifetime, but posthumously his work has been exhibited at the England Gallery, London; Paul Smith shops in London and Tokyo, the Zetter Hotel in London, Pallant House gallery in Chichester and Hove Museum. His work has been critically reviewed by Dr Hartwig Bischof when he was a lecturer at the University of Vienna.
Opposite: Self-portrait in watercolour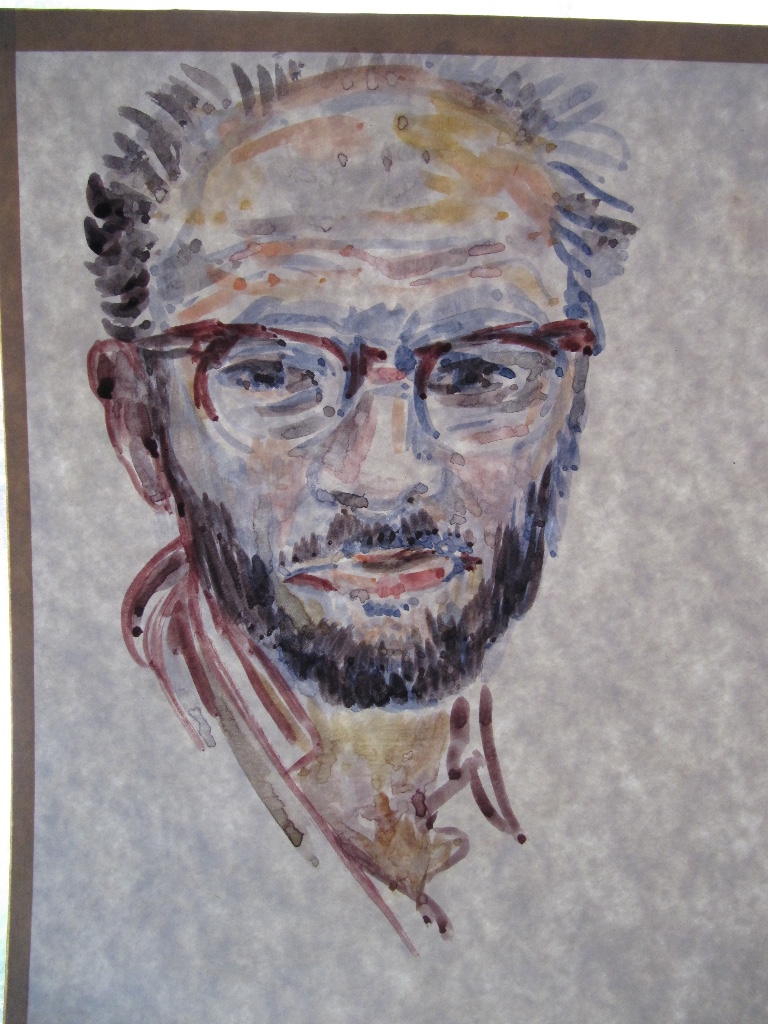 Early Years
Born in Vienna on 26 November 1920 of Jewish origin, he spent much of his early life in an orphanage, and in foster care; he had a very unhappy childhood. He refused to join his stepfather's business, considering himself an artist from an early age. Friedrich fled to England in 1939 to escape persecution by the Nazis, arriving at Dover on 18 April 1939. His passport records "Leave to land granted at Dover on condition that the Holder will emigrate from the United Kingdom on completion of his training'. Friedrich initially joined the Eder Kibbutz Farm, Ringlestone, near Harrietsham, Kent. He was then interned in Douglas, Isle of Man, before being deported to Quebec, Canada, on S.S. Sobieski (out of Fleetwood).
but was soon interned and sent to Canada where he worked as a lumberjack. Here he won a scholarship to an art college, but no grant for living expenses was included so he couldn't accept it; in fact he received no formal training in art.
Life in England
Returning to England in 1943 he married an English girl, Muriel Harding, in 1945. They settled in rural Hampshire, living humbly in a converted railway carriage. Here he worked in a variety of low-paid labouring jobs to earn a living, but his passion was always his art. When left alone for a fortnight whilst the family went on holiday he spent the housekeeping on a new set of chisels!! Friedrich was temperamental, shy and reclusive and although he loved to show his work to visitors expressing an interest he never sought to show it publicly during his lifetime. When asked why he never signed his work he replied, "they will all know that its by me, I don't need to sign it" Friedrich's long-standing friend, Hans Arnold
Rothholz
, regularly visited him in Hampshire and encouraged him over the years. He sometimes gave Friedrich art materials, and even persuaded him once to allow a few works to be exhibited at Heals of London in the 1950s.
Friedrich passed away peacfully on 19 September 2009, sitting in his favourite chair, at his home in Horndean, near Portsmouth, England.
Art Output
Friedrich Nagler was always looking for art media to help express his creative ideas, which flowed like an endless stream. Each of his jobs provided new materials: wood from the sawmill, rubber offcuts from the shoe factory, resin from the ship builders, and to complement these he frequented junk shops looking for metal and brass for his constructions. He found out how to work in metal, using taps and dyes, and he built a forge in the back garden to work in wrought iron. He was a perfectionist and only his way was right; he knew when his creation was good, and if it wasn't it was re-worked or went in the bin. He was fascinated with faces, creating them in: watercolour; stone; acrylic on paper, laminate board, and ceramic plate; in various resins; in plastic; in wood; in bread; in polystyrene; in paper; in clay sometimes using egg-shell as a mould. He claimed that all of his thousands of faces were different, and they are!! Other favourite subjects were crucifixes/ religious images, animals, and landscapes. Friedrich left a very large body of artwork, and his abiding hope was that it would be appreciated and would find a good home, after he passed away.
Friend of the family, Stephen Rothholz, has done much to publicise the work and has been instrumental in arranging the exhibitions and film.
1. 'The Unknown World of Friedrich Nagler', England & Co. Gallery, 40-42 Great Portland Street, London W1, 5 - 24 April 2013.
2. 'The Secret World of Friedrich Nagler', Paul Smith Shop at 9 Albemarle St., Mayfair, London, 20 June to 26 July 2014.
3. 'The Secret World of Friedrich Nagler', Paul Smith Space Gallery, Tokyo, Japan, 20 February to 28 March 2015.
4. 'Friedrich Nagler Exhibition', Zetter Hotel, St John's Square, London EC1 from 24 April to 5 June 2015.
5. 'Wunderkammer', Pallant House Gallery, DeLonghi Print Room, 30 June to 16 October 2016.
6. 'Friedrich Nagler: A Personal Mythology', Hove Museum & Gallery from 13 June to 17 September 2019. This exhibition is part of the Insider/ Outsider Festival.

Films
1. Friedrich (2011). A documentary exploring the life and work of unknown artist Friedrich Nagler. Directed by Kitty McMahon, Produced and edited by Natalia Mirsaka. University of the Arts, London College of Communication, BA Film & Television Graduation Show, 13 June 2011. Awarded BAFTA Best Film. To view the film 'Friedrich', 11 minute short documentary, click
here
1. Brittain-Catlin, Timothy (2013) 'Crowded House' The World of Interiors, April, pp214-219
2. Bischof, Hartwig (2014) 'Die Masken des Friedrich Nagler' Quart. 2014 Nr.1, pp29-31 available for from Publications tab
3. Nagler, Martin (2013) 'A Short Biography of Friedrich Nagler', available for viewing from Publications tab
4. Nagler, Martin (2013) 'Friedrich Nagler's Art', available for viewing from Publications tab

5. Bischof, Hartwig (2015) 'Nagler: A Prima Vista Interpretation' (in German), available for viewing from Publications tab:
6. Bischof, Hartwig (2015) 'Nagler: Ein Erster Blick' (in German). Twenty-seven pages of analysis of the work with comparisons made to other artists + 51 pages of pictures giving a very good cross-section of the work. This treatise is now available for viewing from the Publications tab: